Last updated on December 28th, 2022
Invoicing is likely central to your business.
As a freelancer or professional services business, invoicing is an essential part of your operations. It's how you get paid for the work you do, and it's also a way to communicate with your clients about the details of your services. Great invoicing software can make a huge difference in your ability to efficiently and effectively handle this important aspect of your business.
Invoicing software is used by a wide range of businesses, including consultants, freelancers, digital marketers, architects, and law firms. These businesses rely on invoicing software to efficiently manage their finances and keep track of their billable time and expenses. With a good invoicing software platform, they can easily create and send invoices, track payments, and manage their cash flow. In today's digital age, invoicing software is an essential tool for any business that provides professional services, and it can make a significant difference in your ability to grow and succeed.
In addition to managing invoices and payments, invoicing software can also serve as a customer relationship management (CRM) tool for small businesses. This is especially true for service-based businesses, where the list of contacts – both current and historical – is central to the function of invoicing software. In many cases, the invoicing software is used to keep track of client information, project details, and communication history. This can be a convenient and cost-effective way for small businesses to manage their client relationships, as it allows them to keep all of this information in one place. Additionally, the invoicing software can be integrated with other tools, such as project management software, to provide a comprehensive view of client interactions and project progress.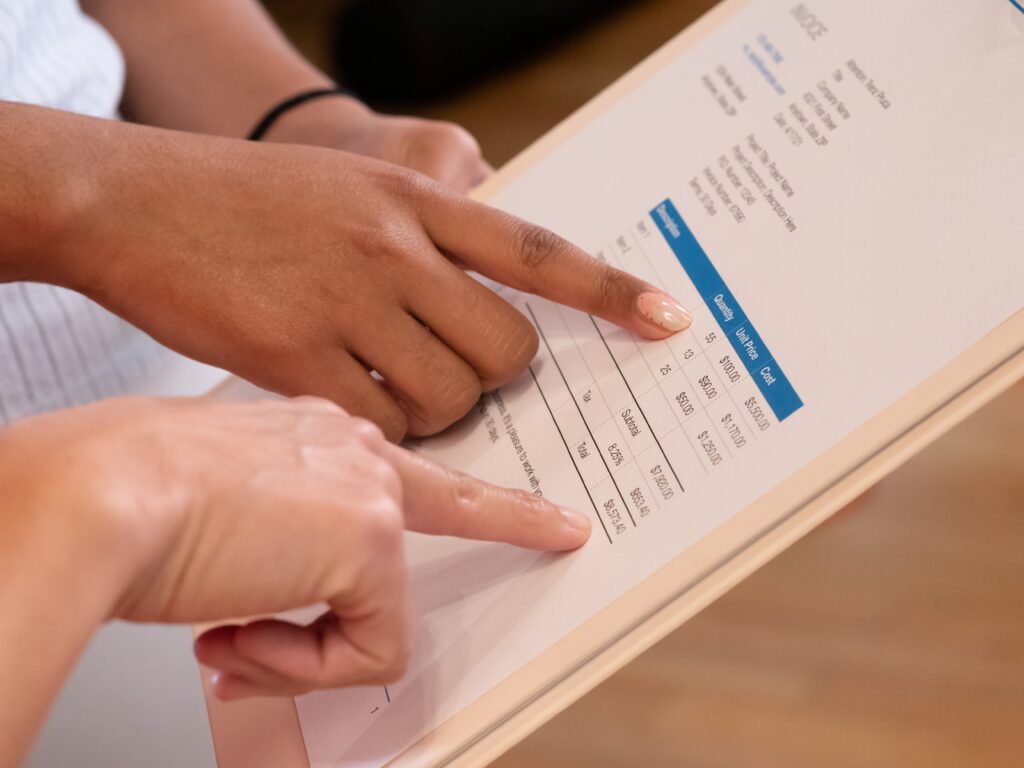 There are basic elements you want to make sure are always present.
An invoice is a document that outlines the details of a sale or service provided by a business to a client. It's a key tool for communication between the business and the client, and it's also an important record-keeping document for both parties. A well-designed invoice should include the following elements:
Company name and logo: The invoice should include the business's name and logo, which helps to establish the business's identity and brand image.
Invoice issue date: The invoice should include the date that it was issued, which helps to establish when the services were provided or the goods were sold.
Invoice due date: The invoice should include the due date, which is the date by which the client is expected to pay the invoice.
Terms of payment: The invoice should include the terms of payment, which can include the payment method (such as check, credit card, or bank transfer), any discounts or incentives for early payment, and any fees or charges for late payment.
Line items: The invoice should include a list of the goods or services provided, along with the quantity, price, and any applicable taxes. This helps the client understand exactly what they are being billed for and why.
Tax information: If applicable, the invoice should include information about any taxes that are being charged on the goods or services. This may include the tax rate and the total amount of tax being charged.
Client information: The invoice should include the client's name and contact information, which helps the business keep track of its clients and facilitates communication.
Having this information on an invoice is important for both the business and the client. It helps the business accurately track its sales and revenue, and it also helps the client keep track of their purchases and payments for their own record-keeping purposes. A well-designed invoice that includes all of these elements can help to establish trust and professionalism between the business and the client, and it can also help to avoid misunderstandings or disputes.
A well designed invoicing system saves you time and helps you get paid faster, so you can focus on the important aspects of your business.
One key benefit of a utilizing a well-designed invoicing system is the ability to quickly convert tracked time and expenses into billable line items. If you're using a manual process, or even a spreadsheet, to track your time and expenses, it can be time-consuming and error-prone to create invoices. With modern invoicing software, you can easily import your tracked time and expenses and have them automatically turned into professional-looking invoices. This can save you a lot of time and effort, and it can also help you avoid mistakes that could cause delays or disputes with your clients.
Another important benefit of a good invoicing software solution is the ability to quickly get paid by collecting payments online. Many invoicing software platforms allow you to send invoices directly to your clients via email, and they also provide options for your clients to pay online. This can make it much easier for you to get paid, especially if you have clients who are located remotely or who prefer to make electronic payments. With online payment options, you can avoid the hassle of chasing down checks or dealing with payment issues, and you can get paid faster, which is crucial for keeping your business running smoothly. This should include options like the ability to pay via credit card, through modern payment gateways like Stripe or PayPal, as well as through other payment types like digital ACH.
In addition to the time and payment benefits, a good invoicing solution can also help you professionally convey your business's brand on a professionally designed invoice template. A well-designed invoice can make a good impression on your clients and help to establish your business as professional and reliable. You should have the ability to choose from multiple themes and customize the appearance of your invoices to match your brand's image. This includes the ability to add your business's logo and other branding elements, as well as customize the overall layout and design of the invoice. It's also important for the invoice to be presentable in both digital and paper formats, so that it looks professional no matter how it's viewed. A good invoicing software should offer the ability to easily print your invoices or save them as PDFs for digital distribution. For many customers, invoices that resemble the traditional paper medium will be regarded as more professional and important for their own record keeping.
Lastly, you should consider how professionally the invoice can be delivered to your clients. In the modern digital age, invoices will frequently be delivered electronically, through email. However, besides PDFs, clients will also appreciate a digital link to the invoice where payment history and other information can be accessed. On such a link, you'll want a solution that allows you to inject as much of your branding as possible, including the ability to use your own domain, such as "clients.yourcompany.com" or "portal.yourcompany.com", adding another layer of polish to your brand presence. This can be the difference in your small business appearing like a well-scaled agency rather than like a fly-by-night operation.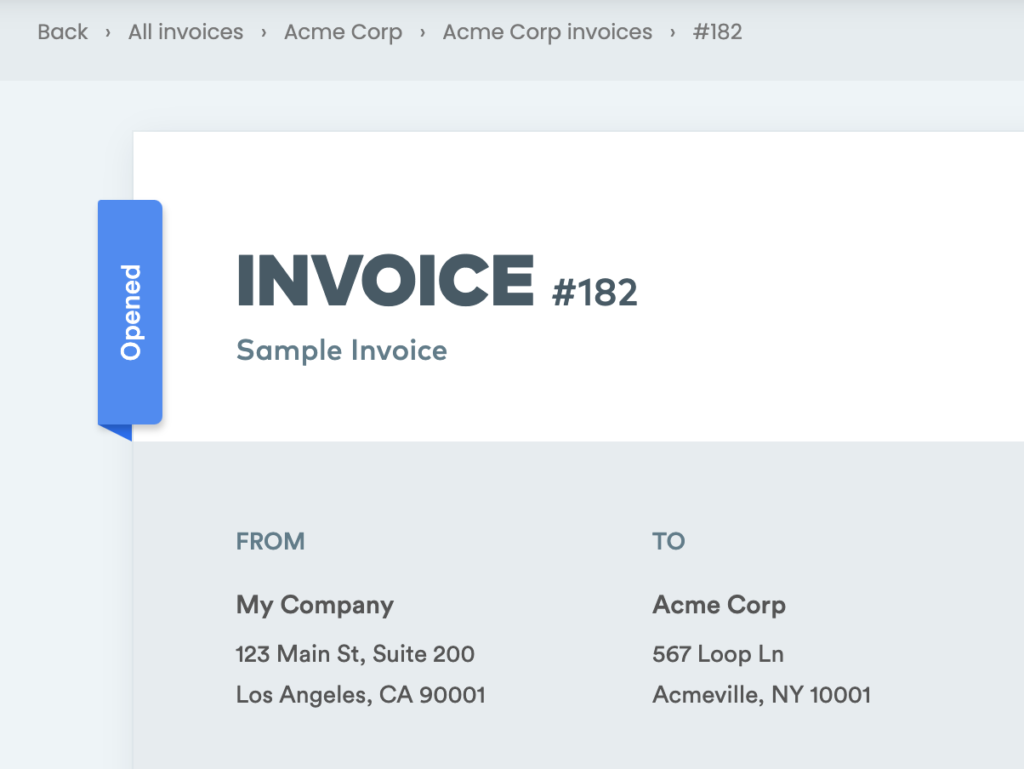 Are you looking for a hassle-free solution to cover all of this complexity?
We built Clientary specifically to handle all of the complexities and concerns with invoicing, so you don't have to. If it's time to graduate from Docs and Spreadsheets, give us a try!